Cosmetic Bonding – Fort Worth, TX
Fixing Minor Imperfections Fast and Easy
Do you have minor, cosmetic imperfections plaguing your smile? Are you looking for a fast and affordable treatment option? Does the idea of a less invasive procedure sound more appealing than those that require altering your natural teeth? If what you're looking for sounds impossible to find, you'll be happy to know that Dr. Renee Corbitt offers exactly what you need for your smile and your individual needs. With cosmetic bonding in Hulen, you can see a fully restored smile in no time at all, and you get to keep more of your natural teeth in the process! To learn more, call us to schedule an appointment with Dr. Corbitt.
What is Cosmetic Bonding?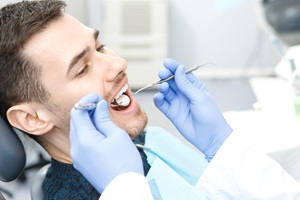 Cosmetic bonding is a conservative way to repair slightly chipped, discolored, or crooked teeth. Your dentist will use a biocompatible composite resin that will be matched to blend in with the rest of your smile, making it impossible for anyone to notice.
With this type of treatment, Dr. Corbitt can hide a wide range of cosmetic flaws, ranging from chipped or cracked teeth, stains and discoloration, or crooked or gapped teeth.
In one visit to our office, you will watch your smile go from flawed to flawless. In fact, with cosmetic bonding, you can officially say "goodbye" to your old smile and say hello to a truly transformed, more beautiful appearance.
What is it Used For?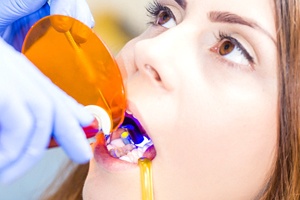 Apart from the cosmetic purposes of cosmetic bonding, it can also be used for teeth fillings instead of traditional amalgam fillings.
Many patients prefer bonding fillings because the white color is much less noticeable than the silver amalgam fillings. Bonding fillings can be used on the front and back teeth, depending on the location and extent of tooth decay. This makes it possible to provide patients with an alternative to fixing their oral health needs without the unnecessary spotlight on their dental work.
Cosmetic bonding is also used to protect the roots of your teeth if are experiencing a receding gum line and your roots are exposed.
What is the Process?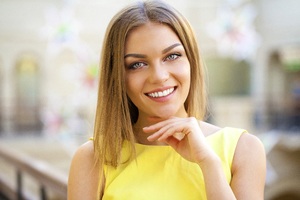 Prior to the placement process, Dr. Corbitt will begin by using a shade guide to help in determining the color of the composite resin. Once this is achieved, she will begin to gently "roughen" each tooth before placing a special liquid over the surface of each tooth. This initial process is designed to ensure the bonding material properly adheres to your tooth.
Now that the teeth are ready, Dr. Corbitt will take the composite resin and begin to shape and sculpt it onto the enamel of your tooth until the desired look is achieved. To hold it in place, she will use a curing light to harden the bonding agent and make any final adjustments before giving it a final polish.
Depending on the number of teeth you are having bonded, the process can take as little as 30 minutes, and no anesthesia is required until you are having a tooth filled.