Be Red Carpet Ready with a Smile Makeover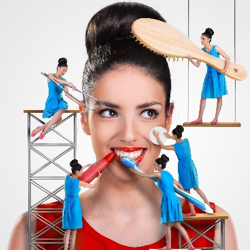 There are a lot of people who simply think it's too late for their smile. They have so many dental problems that they don't know where to start, and frankly, they're embarrassed by the appearance of their teeth. This causes them to avoid social situations and never smile for pictures, but through it all, their teeth are constantly on their mind.
Does this sound like you?
If so, we want you to know that it's never too late for your smile. With a smile makeover in Fort Worth, we can correct all of your dental problems, take away your flaws, and make sure you have the kind of smile that always fills you with confidence.
What is a Smile Makeover?
A smile makeover is a comprehensive treatment that can be used to correct a wide array of dental problems. Whether you simply want your smile to look its best or you have longstanding dental issues that limit your ability to eat and speak comfortably, a smile makeover can help.
It will consist of numerous procedures working together in harmony to create your perfect smile. With it, we can:
Whiten your teeth
Replace missing teeth
Fix chips and cracks
Repair cavities
Properly align your jaw
Close gaps
Straighten slightly misaligned teeth
The list of what a smile makeover can accomplish is practically endless, but you can be certain of one thing: it will give you a smile you can truly be proud of.
How Does a Smile Makeover Work?
Each and every smile makeover is specially designed based on a patient's particular situation. This is why they all begin with a consultation with your cosmetic dentist in Fort Worth, Dr. Renee Corbitt. During this appointment, you'll get to discuss your personal smile goals as well as your dental history. After performing a thorough oral exam, Dr. Corbitt will start to formulate your personalized smile makeover.
Because each makeover is completely customized, the time yours may take can vary. Typically, they require multiple appointments scheduled over the course of a few weeks or months. With a smile makeover, it's not just the specific treatments Dr. Corbitt uses that matters, but how they work together as well. After each appointment, time will be needed to see how your mouth adjusts to the previous procedure(s), and then you can move on to the next.
Dr. Corbitt and her team will be there to guide you through the entire process as well as answer your questions so you can always know what's going on.
Ready to Get Your Smile Back?
In the end, no matter how many procedures or appointments your smile makeover requires, Dr. Corbitt can guarantee you'll be overjoyed with the end result. You'll not only have a set of teeth that looks spectacular, but it will also allow you to speak and eat comfortably again. That way, the next time you bite into your favorite food or smile at a friend, the absolute last thing on your mind will be your teeth.
It's never too late for your smile with a smile makeover. To learn more about this procedure and schedule your initial consultation, please contact us today by using the phone number located above or the form on the right.