Emergency Dentist – Fort Worth, TX
Treating You In Your Time of Need
Dr. Renee Corbitt, your emergency dentist in Hulen, and our team of professionals understands that dental emergencies are stressful and difficult to handle, especially because they always seem to happen at the most unexpected moments. That's why we're dedicated to providing patients who are in pain or require urgent treatment with high-quality, comfortable, and fast care. If you happen to find yourself in the midst of an oral emergency, like a damaged or knocked-out tooth, don't hesitate to contact our office as soon as possible so we can fit you into our schedule.
How to Handle Common Dental Emergencies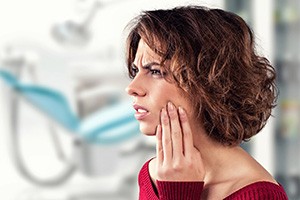 If you experience a dental emergency in Fort Worth, the first step you should take is to call our office right away. Our team will provide you with over-the-phone first-aid guidance and make sure that your smile doesn't sustain any additional damage. We've also provided some tips on what you can do to prepare for your visit and make yourself more comfortable as you make your way to our office below.
Toothaches
Toothaches are often a sign of an infection inside of your tooth that has aggravated the sensitive pulp. To help with the pain, place a cold compress on the outside of the affected area and take an over-the-counter pain medication such as ibuprofen.
Chipped/Broken Tooth
If you're able to find the broken-off portion of your tooth, retrieve it, rinse it off, and place it in a sealable container to bring to your appointment. In some cases, we're able to glue it back on. If the damage has created a jagged edge, you can place a piece of orthodontic wax over the area to keep it from damaging your oral tissues.
Knocked-Out Tooth
Time is of the essence, so be sure to get to our office within an hour of the incident. Pick up your tooth, being sure to only handle it by the biting surface, and gently rinse it under a stream of cool water. Store it in a sealable container of milk or salt water and bring it to your appointment.
Lost Filling/Crown
If you're able to find your restoration, you can pick it up, rinse it off, and attempt to place it back on your tooth with a dab of denture adhesive or toothpaste. However, know that this is a temporary solution and you'll need to visit our office so we can repair or replace it to prevent an infection from developing.
How to Prevent Dental Emergencies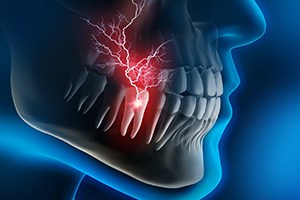 Although you can't completely avoid a dental emergency occurring, there are some steps you can take to reduce your risk of experiencing one and keep your mouth healthy. These include:
If you still happen to experience a dental emergency, know that you can always count on our team to help get you through it!