General Dentistry – Fort Worth, TX
Providing Comprehensive Services for Improved Oral Health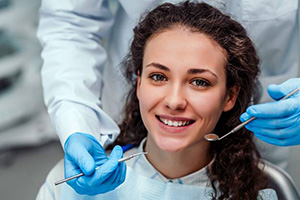 General dentistry encompasses a wide variety of services and treatments, each designed to keep your teeth, gums, and jaws healthy, pain-free, and protected against damage. Regular visits to Dr. Renee Corbitt, DDS, a dentist in Fort Worth, help keep your teeth and gums out of harm's way, all while ensuring the health and beauty of your smile. At our state-of-the-art dental practice in Fort Worth, TX, you'll find everything you need to enjoy beautiful, healthy teeth and overall wellness all under one convenient roof. Our complete menu of general and preventive dentistry services includes the following:
Preventive care is the most effective way to maintain optimal oral health. Not only does it give Dr. Corbitt a chance to thoroughly examine your mouth, teeth, and gums, but it enables our team of dental experts to remove any plaque and tartar buildup that can lead to gum disease or tooth decay. These regular appointments allow us to treat problems in their early stages, preventing additional dental work in the future. As part of your appointment, you can also expect us to capture dental x-rays to check for any problems existing below the gum line.
Dr. Corbitt and her team are proud to serve the Hulen area and families from Hulen, and as part of our commitment to providing care for the entire family, we want even our youngest patients to receive the care they need. Offering a kind, calming, and non-judgmental environment, our pediatric dentist will provide useful tips to help your child develop good oral hygiene habits at home, as well as ensure their teeth are developing correctly.
Do you have a tooth that is severely decayed or damaged? Dental fillings are a great solution for restoring the natural structure of your weakened tooth. Depending on the location of the filling, you and Dr. Corbitt will discuss which material is best to achieve the desired result. While traditional, amalgam fillings are useful for withstanding greater chewing force (back teeth), composite resin fillings can be placed on front teeth and mimic the appearance of your natural teeth.
When arriving for your regular dental checkup, Dr. Corbitt will check your jaw for any signs you could be suffering from TMJ, otherwise known as temporomandibular joint disorder (TMD). From severe headaches to clicking in your jaw, TMJ can make it difficult to chew, speak, and even yawn. If you're looking to find relief from the pain and discomfort, TMJ therapy can help. Using a non-invasive oral appliance, we can realign your bite and alleviate the pressure placed on your facial joints.
Do you experience ceased breathing for 10 seconds or more? Does this happen once or maybe hundreds of times each night? If so, you have sleep apnea, and you are one of the millions of Americans who suffer from the inability to get a good night's rest. Sleep apnea not only affects your ability to sleep, but if left untreated, it can lead to high blood pressure, heart attack, and stroke. Thankfully, sleep apnea therapy can reduce the symptoms associated with the condition, helping you to feel more rested and improving your overall health.
Bruxism Treatment
Do you grind or clench your teeth at night while asleep? Teeth grinding, also known as bruxism, can be damaging to your teeth, causing early wear and tear, affecting the enamel and the tooth in its entirety. If it's believed that you can benefit from bruxism treatment, there may be a variety of options to help alleviate the problem, one of which is a nightguard that you can wear while sleeping.
Considered one of the most common oral health problems in the United States, an estimated 80% of adults suffer from some form of gum disease, also known as periodontal disease. If you experience bleeding gums or tooth sensitivity to hot or cold temperatures, Dr. Corbitt may suggest gum disease therapy depending on the severity of your case. Because gum disease can cause problems with your overall health, too, our dental experts can help you get your oral, heart, and even brain health back on track.
Oral Cancer Screening
Early detection is key when treating oral cancer. It affects thousands of people in the United States each year, and unfortunately, most cases that result in death are due to late diagnoses that are difficult, if not impossible, to treat. When visiting our office for a regular checkup, Dr. Corbitt will thoroughly examine your mouth, neck, and throat to look for any signs of oral cancer. Should she detect any causes for concern, she will put you in contact with a specialist who can provide an official diagnosis and begin treatment.
Athletic Mouthguards
Do you have a child who plays sports? Are you worried their mouth could be damaged by a flying ball or forceful hit? This concern is common among parents of athletes, which is why we offer athletic mouthguards to keep your child's mouth safe from potential damage. We know not all accidents can be prevented, but with this type of device, we can reduce the likeliness of injury and keep your kid out on the field with a complete smile.
When an infection spreads to the inner part of your tooth, the pain can be immense. When looking for a solution, don't be deterred by the bad reputation root canals have received over the years. Instead, root canal therapy can alleviate the pain and save your tooth from extraction. Dr. Corbitt and her team will evaluate the injured tooth and determine if a root canal is necessary. If so, it will take three visits to our office to complete treatment, but in the end, you'll have a new and improved smile that is free from pain.
When brushing, you can often miss some of the harder to reach areas, making them more vulnerable to tooth decay. This is where dental sealants can help. Dr. Corbitt and her team can place sealants on your teeth that bonds to the grooves in the chewing surfaces of your teeth. This keeps plaque from forming and causing decay to develop. In addition, if you or your child are prone to cavities, it may be beneficial to receive fluoride treatments to help strengthen tooth enamel and protect against tooth decay.
Patient Education
When visiting our office, we want you to be knowledgeable about the state of your teeth and gums. This is why our team of dental professionals will not only discuss ways to improve your oral health, but they will also work with you to create treatment plans that you are comfortable pursuing. Patient education is a crucial aspect to any form of dentistry, no matter if it's preventive, restorative, or cosmetic. We want you to have the information you need to make informed decisions about your oral health, and if you have questions, we encourage you to ask!