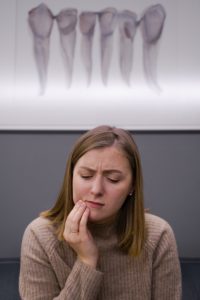 Many people believe an occasional toothache is completely normal; however, unexplainable dental pain is never a good sign. It can indicate a serious problem, but is it life-threatening? If you have a relentless toothache keeping you awake at night, here's why you shouldn't wait to see your emergency dentist. 
A Toothache is a Dental Emergency
Oral emergencies take countless forms, but many patients end up in dental chairs for toothaches. There is not a single cause of toothaches, but your pain can shed light on the source of your discomfort, such as from a small cavity, gum recession, or a broken tooth. While any of these issues won't place an immediate risk on your health, they can lead to devastating consequences for your mouth and body.
No one has time for an unplanned dental appointment, but don't wait to see if your pain stops on its own. It's unlikely the discomfort will subside without seeing a dentist. Depending on the cause, your tooth can be at risk of infection, which can result in a throbbing, constant toothache. A small issue can turn into a huge problem quickly until you can't ignore the pain any longer, and it can affect your health.
Research suggests a close connection between oral and general health. Oral infections may enter the bloodstream. While the tooth infection may not kill you, you can lose your tooth and place your health on the line. While not all toothaches result from an infection, it's best to fit a dental appointment into your schedule.
Managing Your Toothache
You can take your focus off of your discomfort by following a few simple tips to ease your pain until your appointment:
OTC Pain Reliever: Take an OTC pain reliever or anti-inflammatory to reduce your discomfort.
Gargle Salt Water: A salt water rinse can minimize pain and inflammation. It will also kill oral bacteria left behind by brushing and flossing.
Eat Softer Foods: Avoid chewing with your tooth and eat softer foods until you can see your dentist.
Change Sleep Position: Sleep with your pillow elevated to prevent blood from pooling in your head, which can worsen your pain.
Don't Ignore Your Toothache
Don't let anxiety about a large bill stop you from scheduling an appointment. Many dental plans can be used to offset the cost of emergency services, like the consultation or imaging. You can also use your annual benefits to pay up to 80% of the cost of certain treatments after reaching your deductible.
Your dentist will help you find the solutions you need to stop your pain. They'll work with you to accommodate your schedule to get you into the office before it's too late to save your tooth.
About Dr. Renee Corbitt
Dr. Corbitt is a graduate of the University of Texas Health Science Center San Antonio Dental School, who has maintained a focus on sleep medicine. However, Dr. Corbitt also offers a variety of advanced services, including emergency dentistry. If you have a toothache, contact our office today to schedule an appointment.