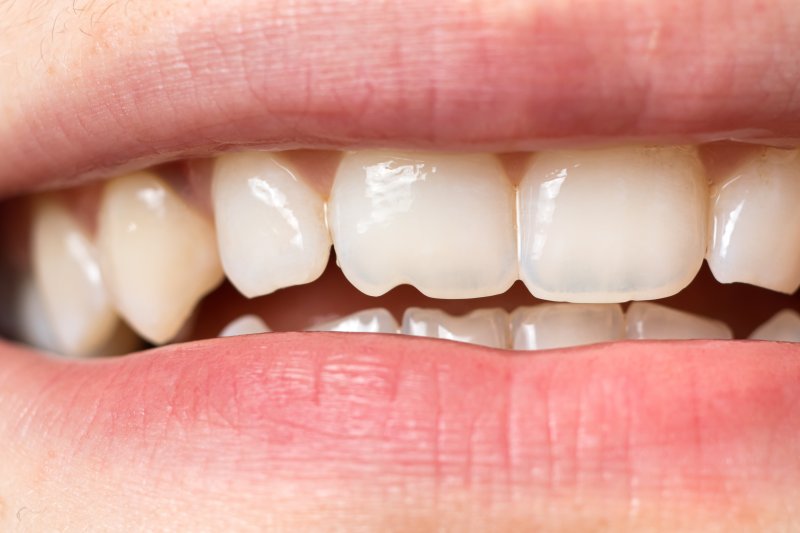 Let's say you've just chipped one of your teeth. Depending on the situation, your smile might have suffered some severe damage. Even so, you're hoping your chipped tooth will heal. After all, don't all body parts recover that way? As it turns out, though, that hope is misplaced: chipped teeth need urgent dental treatment. To learn more, here's a summary of why a chipped tooth won't heal, why to see your dentist, and your potential treatment options.
Why Won't a Chipped Tooth Heal?
In contrast to other body parts, tooth enamel doesn't heal from significant damage. Whether it's a crack, fracture, or chip, your injury will stick around unless you help it.
This fact stems from the structure of teeth. Specifically, your pearly whites feature enamel, dentin, and pulp. While the latter two layers have blood vessels that enable self-healing, enamel doesn't have any. Thus, the top layer of teeth can only recover enough to combat things like cavities or infections. It can't make chips disappear.
Why Should I See a Dentist for It?
Without treatment, your chipped tooth is likely to cause more problems.
For one thing, you'll have to deal with persistent symptoms; these often include discomfort, swelling, and sensitivity. You may even feel severe or intolerable pain if your chip is significant.
More importantly, you'd be putting your tooth at risk of further damage and infection. An untreated chip makes it vulnerable to dangerous oral bacteria. You may even lose the tooth in question if you don't do anything about it.
What Treatments Are Used for Chipped Teeth?
To treat a chip, your dentist will likely suggest you get one of the following treatments:
Dental Bonding – Using a tooth-colored composite resin, your dentist can cover up chips, staining, and discoloration. With proper care, these results can easily last ten years without touchups.
Dental Cap or Crown — The dentist could also remove part of the remaining tooth and cover it with a crown or tooth-shaped cap. That way, the affected area will look good as new and have protection from harmful stimuli.
Veneers – These porcelain layers could cover the chip and any stains or fractures. You could expect your results to last between ten and 15 years.
Don't wait on a recovery that won't happen. Instead, see your local dentist for treatment. They can restore your smile's health and appearance in no time!
About the Author
Dr. Renee Corbitt is a dentist based in Fort Worth, TX, having earned her DDS from the UT Health San Antonio School of Dentistry. Her skills span preventive, cosmetic, and restorative dentistry, as well as emergency dental treatments. She also has experience in sleep medicine that lets her treat sleep apnea. Dr. Corbitt currently practices at her self-titled clinic and can be reached at her website or by phone at (817)-294-8821.