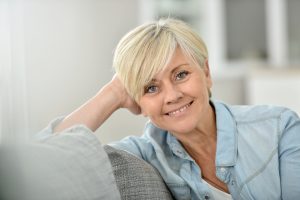 Growing older is one of the facts of life. However, you still have control over certain aspects of the aging process. For example, the appearance of your teeth can make you look dated, but your cosmetic dentist in Fort Worth says you can do something about it. As you continue reading, you'll learn how cosmetic dentistry can revamp your smile and take years off of your appearance!
Let's Talk Cosmetic Dentistry
So you may be wondering, "What classifies as cosmetic dentistry?" The dental procedures that fit into this category address the following issues:
Gaps
Stains
Crowding
Crookedness
Misalignment
Thinning Enamel
Broken or Worn Enamel
There are several different types of cosmetic dental procedures to choose from to meet the above needs.
Teeth Whitening
Teeth stains can add years to your appearance, but that problem is solved with professional teeth whitening. Using only the highest quality bleaching agents, your cosmetic dentist will be able to lift troublesome stains and leave you with a younger and more vibrant-looking smile.
Porcelain Veneers
Also contributing to having an aged look are smile flaws like gaps, chips, stains and misalignment of your teeth. Porcelain veneers provide a way to address these imperfections by perfectly masking the digits in the smile zone. Made from high-grade ceramics, they are affixed to your teeth and totally remake the look of your smile.
Dental Bonding
An alternative to porcelain veneers is to receive dental bonding. Using a composite resin, your dentist will buildup and shape your tooth so it will fit perfectly into your smile line. This method of treatment can mask chips and cracks in your teeth that leave you with a more dated look.
Dental Crowns
Thanks to the continued advancements in the world of dentistry, a damaged or missing crown can be restored with a cosmetic prosthetic. Fabricated from high-grade porcelain, dental crowns are made to fit directly over the damaged tooth.
Not only will a crown restoration rejuvenate your smile to shave away the years and leave you looking younger, but it will also improve the functionality of your teeth.
What's the Right Choice for You?
To identify what form of cosmetic dentistry is best suited for you, contact your dentist in Fort Worth to schedule a consultation. The professional will take the time to listen to your concerns and assess your current condition.
Then, the recommendation given will be based on what is in your best interest. With the expert help, you'll be looking younger and feeling like a brand-new person soon!
About the Author
Dr. Renee Corbitt graduated from the Texas Health Science Center San Antonio Dental School. She then went on to complete a mini-residency at the University of Medicine and Dentistry New Jersey (now Rutgers). Dr. Corbitt is a member of several professional organizations, including the Academy of General Dentistry, the American Academy of Dental Sleep Medicine and others. To have your smile revamped and the aged look erased, you can find Dr. Corbitt at her private practice, and she can be reached for more information through her website.