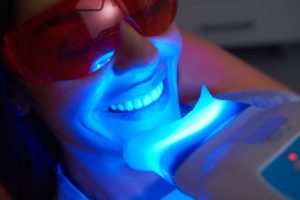 We all have that loved one who is nearly impossible to find holiday gifts for. Whether it's because they already have everything or maybe they don't like making lists, it can make holiday shopping a little tricky. This year, what if instead of another random gadget that will probably end up collecting dust, you gave them the smile of their dreams? Teeth whitening is a gift that truly keeps on giving in the form of a bright, confident smile every day! Read more to find out exactly why a whiter smile is the best gift for your "hard-to-buy-for" loved one this holiday season.
Reasons to Give the Gift of a Whiter Smile
Studies show that a person's smile is one of the first things that others notice about them and giving someone the gift of a more beautiful smile is also providing them with a greater level of self-esteem and a more fulfilled life. Here are a few reasons why teeth whitening is the perfect holiday gift:
It will never go out of style. Fashion trends change and brands come and go, but a beautiful smile is always in style. The best part is that it's the only accessory that truly matches with every outfit.
There are no batteries included (or required!) We've all opened up that cool new tech "toy" only to find that we can't actually use it yet because we don't have any batteries available. A brighter smile doesn't require additional accessories to keep up with, and it won't give out on you in a time of need.
It boosts self-esteem. Has your loved one ever mentioned that they wish they could smile more for photographs? Give them the gift of confidence this year so that they can feel even better about their overall appearance.
Every time they look in the mirror, they'll appreciate your thoughtfulness. You can't tuck a beautiful smile away on a shelf or in a closet to collect dust – and why would you want to? Just think, every time your loved one sees their beautiful smile, they'll appreciate your gift. Who doesn't want to be gift-giver of the year?
It benefits a professional career. With added confidence comes courage to take on new challenges and put oneself out there. It will also embolden your loved one to smile more, which will draw others to them personally and professionally.
Overall health and well-being are improved. Studies show that those with smiles they love experience a higher degree of well-being and contentment in relationships. Plus, when someone is proud of their smile, they're more likely to take better care of their teeth and gums, promoting both oral and overall health.
This holiday season, give your loved one a gift they'll never forget and improve their confidence, quality of life, and overall health with a brighter and whiter smile.
About the Author
Dr. Renee Corbitt loves serving her patients out of her private practice in Forth Worth. Her favorite thing about dentistry is helping others achieve the confidence they deserve through the gift of more beautiful smiles. She also prioritizes building long-lasting relationships with them and feels that they are like family to her. In addition to taking multiple continuing education courses, she is also passionate about educating her patients on how to maintain oral health throughout their lives. Ready to get your loved one the best holiday gift they have ever received? Visit us online or call (682)-200-8789.