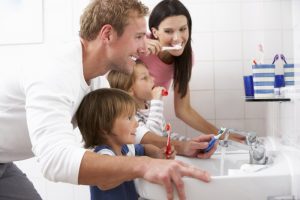 You might have gone to your last dental visit feeling too confident. The prior visit was great—you were clear of dental infections, cavities, and your dentist complimented you on your great brushing habits.
This time though, it was a bit different. Not only did your dentist find one cavity, but the start of a second one as well! Your dentist also noted that you could improve your home dental care to boost your oral hygiene as well.
Rather than shaming you because of poor hygiene practices, your dentist in Fort Worth wants to take this opportunity to teach you how to properly brush and floss your teeth.
The Proper Steps to Preventive Care at Home
Everyone knows that they should be brushing their teeth, but are they doing it properly? Are you flossing every day—and are you doing that the wrong way, too? Here are some helpful tips to optimize your dental hygiene routine at home:
Brushing your teeth: First, start with a pea-size amount of toothpaste on your soft bristle toothbrush. Be sure to brush each section of your teeth to total at least two minutes of brushing altogether. You should be brushing your teeth twice a day as well, once in the morning and once at night. Don't forget to brush your tongue, too!
Flossing your teeth: Flossing is just as important as brushing your teeth—if not more! When you properly floss, meaning that you take your time and floss between each tooth (even back teeth), you remove up to 35% more plaque and bacteria from the smile.
Rinse: It's not a requirement, but you should always rinse your mouth after brushing and flossing your teeth.
Let Your Dentist Help Take Care of Your Smile, Too
Don't forget that your dentist plays apart in preventing dental problems as well. When you visit your dentist every 6 months for effective preventive dental care, like dental cleanings and exams, your dentist will remove plaque and tartar from between teeth and along the gum line.
Plus, they will evaluate your current oral health and even give you helpful advice on how to improve brushing habits at home. If you have a specific concern, like tooth sensitivity, your dentist may be able to recommend products that will address your problem and improve it.
If you ever need assistance or quick advice, give your local dentist a call!
---
About Our Office
Here at the dental office of Renee Corbitt, DDS, your expert dentist loves helping patients keep their smile for a lifetime. Let us help you improve your oral health here in our office and at home by scheduling your next visit with us.