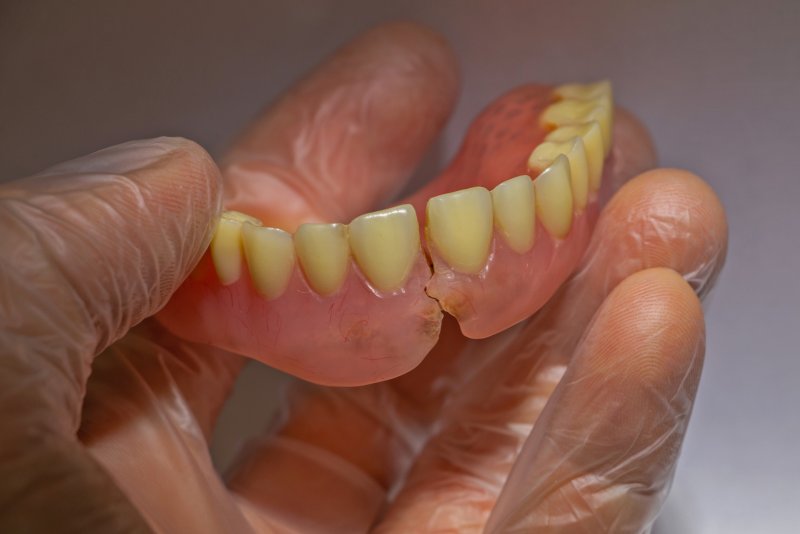 At first, a broken denture might seem like a big deal to you. It's an appliance, after all, not a set of your natural teeth. However, this damage can cause severe problems if not treated quickly. In fact, the situation qualifies as a dental emergency! To prove these claims, your Fort Worth dentist is here with some evidence. Read on to learn why broken dentures count as a dental emergency and how a dentist can fix them.
What Causes Broken Dentures, Anyway?
In general, dentures can break for a variety of reasons. The most common ones, though, include the following:
Natural Wear & Tear: After years of use, a denture will undergo many stress cycles of chewing and daily wear. Once enough time has passed, this process sometimes causes dentures to fracture.
Injury or Accident: Each time you take dentures out of your mouth — for soaks, cleaning, etc. — you risk accidentally dropping them. If and when you do drop them, they might suffer accidental breakage.
Jawbone Shrinkage: Since dentures don't prevent bone loss in your jaw, your shrinking jawbone can cause the prosthetic to move around in your mouth. This lack of stability can result in stress and make your denture crack or break.
Why is a Broken Denture an Emergency?
Dentures aren't made of natural teeth but still serve crucial roles. In particular, wearers need them to eat and to speak — two essential activities of daily life.
As you'd imagine, then, broken dentures can be seriously disruptive. They often make chewing much harder, not to mention create speech difficulties. Furthermore, continually using them can lead to mouth sores, inflammation of your mouth tissue, and worse.
How Can an Emergency Dentist Help?
Should you suffer a broken denture, see an emergency dentist as soon as possible. Depending on your situation, they may be able to repair your prosthetic in a same-day visit.
If the issue stems from a bad denture fit, your dentist could give the restoration a reline. On the other hand, they may recommend creating a new and better-fitting denture.
In case of bone loss in your jaw, your dentist could add dental implants to your denture. That way, your prosthetic would keep your jaw from further shrinking.
As you can see, it's not a good idea to ignore a broken denture. Therefore, see your local dentist for treatment options if you experience one.
About the Author
Dr. Renee Corbitt is a dentist based in Fort Worth, TX, having earned her DDS from the UT Health San Antonio School of Dentistry. She's also a member of the Academy of General Dentistry and the American Academy of Orofacial Pain. Given her background, her specialties are general and children's dentistry, as well as emergency dental care. Dr. Corbitt currently practices at her self-titled clinic and is reachable on her website or by phone at (817)-294-8821.