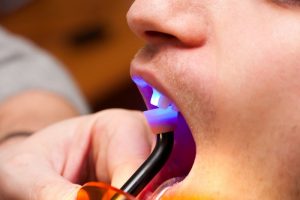 You have a chip in your front tooth that has been bothering you for a while now. It doesn't hurt, but it makes you self-conscious every time you catch a glimpse of your smile in the mirror. You've heard that cosmetic bonding could fix it, but you also heard a rumor somewhere that bonding can mess up your teeth. Is this true? Can cosmetic bonding ruin teeth? Let's take a closer look.
What Is Cosmetic Bonding?
Cosmetic bonding, also known as dental bonding or simply bonding, is a procedure used to correct minor flaws in your smile, such as chips, cracks, stains, or slightly gapped or crooked teeth. Before the procedure begins, your dentist will use a shade guide to match the composite resin material they will use to the existing shade of your teeth, ensuring that the dental work will not be noticeable.
At your appointment, your dentist will apply the composite resin to the affected teeth, using a bonding agent to make sure it sticks. Then, he or she will sculpt the highly malleable material into the right form. Finally, using a curing light, your dentist will harden the material into place, and voila! Your smile is transformed painlessly, and often in less than an hour.
Does Cosmetic Bonding Ruin Teeth?
While cosmetic bonding is not permanent, it in no way ruins teeth. After a few years, the material may fade or become chipped, but that does not affect the natural enamel of your teeth itself. It may leave the enamel more vulnerable because the bonding material is no longer there to protect the tooth, but you can simply call your dentist to retouch the bonding.
What Are the Benefits of Cosmetic Bonding?
Bonding is arguably the most conservative cosmetic dental procedure. It requires little to no removal of enamel to perform, unlike porcelain veneers or crowns. In addition, bonding is one of the most cost-effective treatments out there. It can also be done in as little as 30-60 minutes per tooth, and the procedure is completely painless. Unless you're receiving bonding material to fill in a cavity, no local anesthetic is required. Finally, bonding is great because, if you properly take care of the tooth with regular brushing and flossing, it can last up to 10 years before needing to be replaced.
Cosmetic bonding is a wonderful procedure that can fix many flaws at the same time, and it in no way ruins your tooth enamel. If you have a chip, stain, or gap in your smile, ask your dentist if cosmetic bonding is right for you.
About the Author
Dr. Renee Corbitt graduated from the University of Texas Health Science Center San Antonio Dental School with her Doctor of Dental Surgery degree in 1986. She takes an active interest in the lives and health of her patients, and she loves treating people of all ages. She is a member of several various professional organizations, including the Academy of General Dentistry, the American Academy of Dental Sleep Medicine, and the American Academy of Orofacial Pain. To learn more about whether cosmetic bonding is right for you, contact Dr. Corbitt on her website or by calling (817) 294-8821.