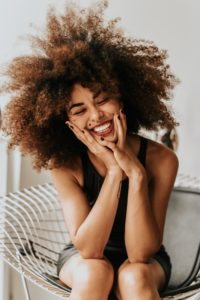 People with attractive teeth are viewed as younger, confident, and successful. Unfortunately, not everyone likes the way their teeth look. If you're embarrassed by discolored, broken, or missing teeth, you aren't alone, but you don't have to live with the insecurities any longer. Your cosmetic dentist can turn the smile of your dreams into reality. Here's how they can fix 4 common dental flaws to create the stunning smile you desire.
1. Stained or Discolored Teeth
Teeth come in a variety of shades and tones naturally. Not to mention, age, oral hygiene habits, and lifestyle factors make your teeth change color over the years. No amount of brushing can reverse discoloration, but you can turn back the clock with:
Teeth Whitening: A highly concentrated whitening agent penetrates your enamel to resolve age-related and surface stains.
Veneers: A porcelain shell is bonded to the front surface of a tooth to improve its color, size, and shape.
2. Cracked or Broken Teeth
Your teeth are protected by the hardest substance in your body. Enamel is stronger than some metals, but it isn't indestructible and it won't grow back. Your dentist can fix chipped or fractured teeth using:
Cosmetic Bonding: A composite resin is shaded to match the color of enamel to blend when treating decay, breaks, or fractures.
All-Ceramic Crown: Porcelain is used to create a custom-made cap that's bonded over the entire surface of a tooth above the gum line.
Veneer: A veneer can cover a chipped or fractured tooth to restore its appearance and protect it from additional damage.
3. Gaps Between Teeth
Braces aren't the only way to correct minor alignment issues, and you don't have to spend months wearing clear aligners when choosing:
Veneers: When applied to the teeth visible when smiling, veneers can improve multiple imperfections using one quick and minimally invasive procedure, including gaps between teeth.
4. Missing Teeth
Every tooth is invaluable to a healthy, functional smile, as well as your self-esteem. You have more options than ever to treat lost teeth, including:
Fixed Bridge: All-ceramic materials are used to recreate the portions of your teeth above the gum line. The bridge is held in place by bonding crowns to the adjacent teeth.
Partial: Prosthetic teeth are set in a gum-colored base that has a metal framework allowing it to clip in place.
Full Denture: An acrylic base and porcelain teeth are made to fit your mouth like a glove, which is held in place using suction.
Dental Implants: An implant post is placed into the jawbone to replicate the root and support a restoration.
It's never too late to invest in an attractive smile. Schedule your consultation today to find out which cosmetic procedures are right for you.
About Dr. Renee Corbitt
Dr. Corbitt is a graduate of the University of Texas Health Science Center and has completed extensive continuing education in advanced services, like TMJ therapy, cosmetic dentistry, sleep medicine, and general dentistry. If you're ready to enhance your smile, contact our office today to request your consultation.