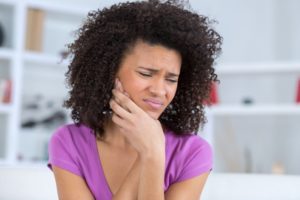 You're one of those people who simply cannot start their day without their morning cup of joe. After waking up, you trudge zombie-like to the kitchen and turn on the coffee maker. Once you fill up your favorite mug and take that first sip, you expect to feel a wonderful warmth radiate through your body and help you get ready to face the world. Instead, a white-hot pain surges from one of your teeth. If you've recently experienced something like this, it may be time to schedule an appointment with your emergency dentist. Continue reading to learn about three types of tooth pain that you definitely shouldn't ignore.
1. Sharp, Stabbing Pain
Toothaches often pop up at the least convenient times. It may be tempting to write then off as no big deal, but doing so can have consequences. After all, pain is your body's way of letting you know that something is wrong. If you start to feel a sharp, stabbing pain in your mouth, it could indicate that you have a cavity or infection. Left untreated, the problem could worsen and lead to the need for more invasive (and expensive) treatment. To save money and time, call your dentist as soon as the symptoms first arise.
2. Persistent Sensitivity
Have you found yourself unable to enjoy your morning cup of coffee or your after-dinner ice cream because the extreme temperatures bother your teeth? If so, then it's time to see your dentist. While some people are more prone to tooth sensitivity than others, this problem is, for many people, a symptom of nighttime teeth grinding. It could also be caused by eroded enamel or tooth decay. To prevent the damage from spreading, book an appointment with your dentist right away.
3. Constant Discomfort
It's easy to see why a sudden, sharp tooth pain often means that a problem is afoot. However, a consistent, low-level ache could also indicate that something is wrong. Your teeth might be shifting, you may have cavities, or your wisdom teeth could be impacted (stuck in the gums). The good news is that your dentist can determine the exact cause of your discomfort. If you contact them quickly enough after you notice symptoms, treatment should still be relatively easy.
For patients with hectic schedules or a fear of the dentist, it's all too easy to ignore a toothache. However, it's important to keep in mind that the sooner you visit your dental team, the sooner they can alleviate your tooth pain and prevent it from worsening. So, be sure to call your emergency dentist when you first notice the problem!
About the Author
Dr. Renee Corbitt earned her Doctor of Dental Surgery degree from the University of Texas Health Science Center at San Antonio Dental School. For the past nearly four decades, she has used her passion for dentistry to provide exemplary care to patients who range from age 1 to 92! Dr. Corbitt is currently a member of multiple prestigious organizations, including the American Academy of General Dentistry, and furthers her already impressive experience through continuing education courses. If you're experiencing any kind of tooth pain, visit her website or give her a call at 817-294-8821.