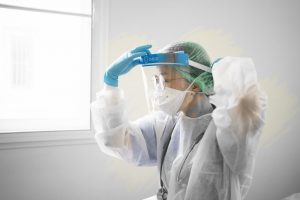 By this point in your quarantine, you've almost completely adjusted to the unique challenges of working from home and only going out when you have to. One day during work your dentist calls with the news that it's time for your six-month checkup and cleaning. Ordinarily you wouldn't object, but these days you're wondering if it's even safe to attend a dental appointment. Rest assured that your dentist takes every precaution to ensure your health and safety while you're at their office. Here are a few of the reasons why it's absolutely safe for you to go to your checkup.
Virtual Waiting Room
While dental offices are among the cleanest places on the planet, waiting rooms have the potential to become breeding grounds for germs, including those that cause COVID-19. The magazines and children's toys that normally keep you and your family entertained have been removed. Because people touch these items all day, they rapidly accumulate germs.
To keep you safe, your dentist will have you check in with your phone when you arrive and wait in your car until your appointment begins. A member of your dentist's team will let you know when it's safe to enter the building. From there, you can bypass the reception area and head straight back into the treatment room.
Increased PPE
Your dentist's typical mask and gloves aren't enough to completely reduce the risk of infection these days. The clinical team will be wearing more personal protective equipment (PPE) than usual. Some of these items include face shields, shoe and hair coverings, and even surgical gowns. This additional PPE protects both you and the team members from infection.
Social Distancing
Signs have been placed around your dentist's office directing patients where to go before, during, and after appointments. This helps create one-way traffic and prevents patients from bumping into each other and potentially spreading germs.
Sequenced Scheduling
Nowadays, your dentist isn't seeing as many patients in a day as they used to. This keeps the number of people in the office at the same time to a minimum. It also allows for ample time between patients to thoroughly clean the office. You can relax knowing any surface you touch in the office has been sufficiently disinfected.
Even before COVID-19 struck, dental practices were one of the cleanest places you could be. If anything, they are even cleaner these days to prevent the spread of the virus. You should definitely be able to receive the care you need without any worries.
About the Author
Dr. Renee Corbitt is a dentist in Fort Worth, TX who earned her Doctor of Dental Surgery degree in 1986 from the University of Texas Health Science Center at San Antonio Dental School. She is passionate about continuing education, particularly when it comes to treating sleep apnea and snoring, having taken more than 500 hours in that area of dentistry throughout her career. Her practice takes all the safety precautions described in this post and more to ensure her patients' health and comfort. To learn more about how you can stay safe at the dentist's office, visit Dr. Corbitt's website or call (817)-294-8821.