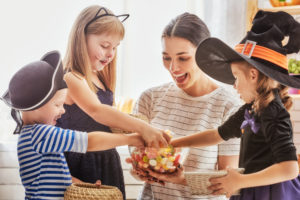 Halloween is always full of spooky sights, from vampires to goblins, witches to warlocks. However, as a holiday associated with sugary treats, Halloween can also be a frightening time for your children's oral health. Eating lots of sugar can increase the risk of tooth decay. Fortunately, with a little planning, it is possible to navigate the fall festivities while maintaining a healthy smile. Keep reading below for some Halloween advice from a Ft. Worth dentist.
Be Selective
First of all, if you're giving out candy to trick-or-treaters this year, be selective about what types of sweets you provide. Different candies affect teeth in various ways. Caramel, taffy, and other sticky candies cling to teeth, making it harder for saliva to wash them away. The longer sugar stays in the mouth, the higher the risk of tooth decay. Give the neighborhood kids chocolate or powdery candies instead, as treats that dissolve more rapidly are slightly more smile-friendly.
Avoid Snacking
When it comes to your own children, set some ground rules about when they can enjoy their Halloween haul. Snacking throughout the day gives oral bacteria more opportunities to feast on sugar and produce harmful acids that weaken enamel. For this reason, you should make Halloween candy a dessert after lunch or dinner. The body produces more saliva when eating a full meal. This helps clean the mouth by rinsing away bits of food (or candy) and neutralizing harmful acids.  
Chew Sugar-Free Gum
Chewing gum helps reduce tooth decay by stimulating saliva production. Encourage your kids to chew sugar-free gum after snacking on Halloween candy to help wash away any leftover crumbles or pieces. If you can convince them to chew gum instead of eating candy, even better!
Donate Extra Candy
Do your kids really need a FULL bucket of treats? Put a limit on how many pieces of candy your children can keep and donate the rest. Operation Gratitude accepts candy donations to send to troops serving overseas. In addition, many dentists have holiday take-back programs that trade new toothbrushes for leftover or extra sweets.
Schedule a Dental Checkup
Finally, do not forget to schedule dental checkups for your children this spooky season. Routine checkups and cleanings are essential for preventing tooth decay, gum disease, and other oral health issues. In fact, only a dental professional can remove hardened tartar from teeth. Biannual trips to a dentist in Ft. Worth will help ensure your children maintain healthy smiles all year round.
Halloween doesn't have to be a scary time for your family's oral health. Just follow the advice above to help avoid cavities this fall.
About the Author
Dr. Renee Corbitt has over three decades of experience helping patients achieve and maintain healthy smiles. The proud University of Texas graduate has taken countless hours of continuing education classes to stay up to date on the latest dental techniques and technology. For more ways to boost your oral health this fall, visit Dr. Corbitt's website or call 817-294-8821.