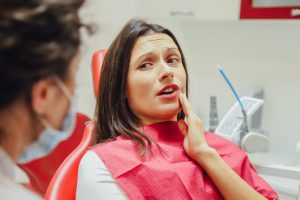 When you hear the words "root canal," are you filled with anxiety and nerves? Then you are not alone. Root canal therapy is considered the most feared dental procedure! Unfortunately, this common, effective treatment has a reputation for being both costly and painful. However, it is an important dental intervention that can treat severely decayed and infected teeth. If you have been putting off a root canal with your dentist in Hulen, then here are four reasons to reconsider.
Reason #1: Your Tooth Is Dying
Unfortunately, infections and dental damage will not just heal themselves. But not from lack of trying! In fact, it is estimated that 15% of Americans don't get the dental treatment they need out of fear. Unfortunately, each day that goes by without treatment is another day that your tooth is dying. Therefore, it is important to speak with your dentist directly about the concerns you have so they can address them before treating the root of the issue.
Reason #2: It Will Cost You More Time and Money
The longer treatment is delayed, the more likely it is that more care will be needed for the extensive damage to the tooth (as well as any subsequent harm to other areas of your mouth). This will result in more visits and costs than if the issue was addressed when your dentist first brought it to your attention. So, save your time, mouth, and wallet from the headache by moving forward with your root canal!
Reason #3: Treatment Can Save Your Tooth
Whether it is a dull, consistent toothache or a sharp, stabbing pain, the discomfort from tooth decay, cavities, and infection can negatively impact your quality of life. It can cause you to become distracted at work, miss out on your favorite foods, and even lose your tooth altogether! To prevent this from happening to you, visit your dentist as soon as warning signs surface and undergo the treatment needed as soon as possible.
Reason #4: It Will Alleviate Your Pain
If you have experienced a tooth that is badly decayed or infected, then you know that few things are as important as getting fast, effective relief from the pain. While cold compresses, soft foods, and over-the-counter medicines can help reduce the discomfort, they are all only short-term solutions that will quickly lead you back to square one. To get the long-lasting pain relief you desire, it is important to have a dentist complete a root canal.
The thought of undergoing a root canal can initially be anxiety-inducing. However, they are a common, routine procedure that is both effective and painless thanks to innovations in dentistry. So, don't put off your root canal treatment any longer. Instead, schedule your appointment today to restore your smile, bite, and quality of life!
About the Author
After graduating from the University of Texas in Arlington with her undergraduate degree, Dr. Renee Corbitt earned her D.D.S. degree from the University of Texas Health Science Center San Antonio Dental School. For the past nearly four decades, she has used her passion for dentistry to provide exemplary care to patients who range from age 1 to 92! Dr. Corbitt is currently a member of multiple prestigious organizations, including the American Academy of General Dentistry, and furthers her already impressive experience through continuing education courses. If you would like to speak with her about undergoing a root canal, visit her website or give her a call at 817-294-8821.